About Me
You'll have a better experience on this website using a secure, up-to-date browser. Click here for information and instructions about updating.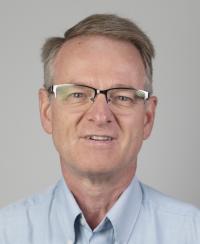 I joined the department in 2000. I obtained my Ph.D. in cancer research from McMaster University in Hamilton, Ontario. After this I did cancer research in England and worked on nerve regeneration in Montreal. In 1996 I moved into teaching and I taught at Crandall University in Moncton, New Brunswick before coming to Dordt in 2000. I am chair of the department and presently serve as program advisor for the pre-chiropractic and medical laboratory science programs. My academic and research interests are in molecular biology and developmental biology. I have also followed the creation-evolution debate for many years and teach a class in this area.
More recently, I have become interested in two quite different topics. I recently became aware of a genetic mutation in the phospholamban (PLN) gene, which is found in people of Frisian descent. This mutation causes heart arrhythmias and possible cardiac death. Other Dordt colleagues and I are looking to raise awareness of this mutation. For more information on this condition, go here.
I am also involved in studying the biology of gender. The transgender phenomenon has dramatically increased in prominence recently and has presented a challenge for the church to respond. I have been studying how gender develops and how it might be altered in gender dysphoria.
To keep in shape, I play hockey and get my bike on the road when my schedule and the weather permit.

Some articles I have written for In All Things:
In collaboration with other science professors I have supervised many student summer research internships in cellular and molecular biology. Some of this work was recently published.
I teach the following courses at Dordt:
Bio 251 Perspectives on Origins
Bio 301 Developmental Biology
Bio 304 Histology
Bio 325 Human Anatomy
Bio 326 Human Physiology
Bio 327 Cadaver Dissection
Bio 357 Medical Terminology
Bio 358 Introduction to Biological Research
Bio 380 Directed Senior Research
Teaching a wide range of courses keeps me stimulated and helps me think of life in a variety of ways.