About Me
You'll have a better experience on this website using a secure, up-to-date browser. Click here for information and instructions about updating.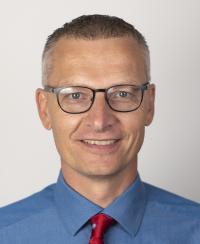 I had the privilege of joining the Dordt University education department faculty in 2009. In my years at Dordt, I have taught a number of undergraduate courses including Introduction to Education, Methods of Teaching Mathematics, Applied Educational Psychology, and Kingdom Identity Calling. I have also taught graduate courses in Foundations of Educational Leadership and Collaborative Leadership.
I currently serve as the Director of the Teacher Preparation Program and the Division Chair of Education & Human Sciences. My areas of interest include educational leadership, school board effectiveness, and elementary/middle school education. I live in Sioux Center with my wife, Valorie, a mathematics professor at Dordt University, and our three children.
Education
Ph.D. in Education with a specialization in Educational Leadership, Iowa State University, 2009.
M.A. in Educational Administration (Elementary), University of South Dakota, 2001.
B.A. in Elementary Education and K-12 Choral/Instrumental Music Education, Dordt  University, 1997.
Experience
Three years higher education teaching experience at Northwestern College in Orange City, IA.
Nine years of teaching and administrative experience in elementary and middle school settings.