About Me
You'll have a better experience on this website using a secure, up-to-date browser. Click here for information and instructions about updating.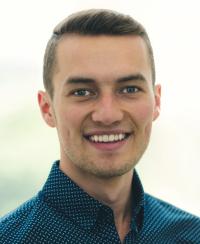 After graduating from Dordt in 2017 studying Actuarial Science and Finance, I moved to Des Moines, Iowa to start my career as an Actuary at Principal Financial Group. I've held several roles at Principal in the past several years, including pricing dental insurance, quantifying financial risk for the enterprise, and currently modeling future results for retirement and annuity products. During this time I've also attained designations as a Chartered Enterprise Risk Analyst (CERA) and Associate of the Society of Actuaries (ASA). I joined Dordt in 2022 as an adjunct professor for upper-level actuarial science material, excited about the opportunity to help future Christian actuaries progress down a rewarding career path.
My wife and I continue to live in Des Moines and enjoy traveling, working on our historic home, and investing time in our local church community.