About Me
You'll have a better experience on this website using a secure, up-to-date browser. Click here for information and instructions about updating.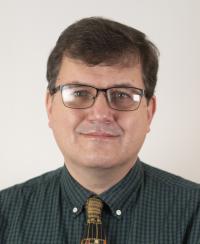 May God grant the Christian scholar in a still higher degree the courage, perseverance, and energy "to go back to his own principles in his thinking, to renew all scientific investigation on the lines of these principles, and to glut the press with the burden of his cogent studies."  Abraham Kuyper, Lectures on Calvinism, 1898.
Education and Experience
Professor of Chemistry, Dordt University, 1995-present
Ph.D., University of Minnesota, Materials Chemistry, 1997; J. F. Evans, Advisor 
B.A., Dordt University, Chemistry and Physics, 1990
Academics
Premed Advising
Pursuing a medical profession requires purpose, preparation, and perseverance.  You have to be called into medicine, prepare thoroughly through courses and experiences, and persevere when the going gets tough. 
Chem 111: General Chemistry
The first course in the chemistry major addressing the most fundamental issues in chemistry: atoms and molecules, chemical bonding, reactions, kinetics, energy, and equilibrium.
Chem 212: Chemical Analysis
A foundational course addressing the questions "What is it?" and "How much is there?"
Chem/Envr 251: Environmental Chemistry
How we use basic chemical principles to understand ecosystems and pollution.
Chem 271: Inorganic Chemistry
Learning how the periodic table organizes chemical knowledge.
Chem 231: Foundations of Physical Chemistry
A second look at energy in chemistry, quantum chemistry, and chemical kinetics.
Chem 312: Instrumental Analysis
Mastering the tools and instrumentation used to investigate atomic and molecular structure and properties.
Chem 333: Quantum Chemistry
Using quantum mechanics to understand atoms and molecules.
Chem/Phys 305: Perspectives in Physical Science
How do we know what we know, scientifically?
Research
Preparation and analysis of biomass-based catalysts for the synthesis of biodiesel.
Chemical Education

"Not Reinventing the Wheel" presented at the BCCE, Aug. 2, 2010
Review of Pharma-Ecology, J. Chem. Educ., 2010, 87 (2), pp 144-145
Review of The Chemical History of Color, J. Chem. Educ., 2015, 92 (10), pp 1600-1601

Philosophy of Chemistry
Occasional posts at in All things.